OAC - Must finance through AHF - In stock units only,. See dealer for complete details. Expires 1/3/2023.

OAC - Must finance through AHF - In stock units only,. See dealer for complete details. Expires 1/3/2023.

OAC - Must finance through AHF - In stock units only,. See dealer for complete details. Expires 1/3/2023.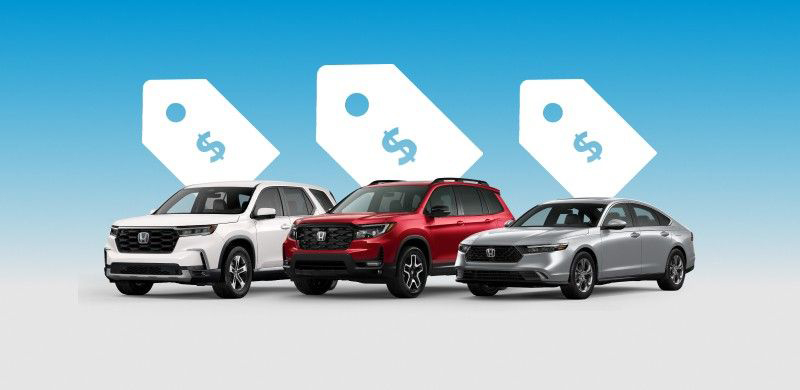 Current Offers
See this month's featured current offers going on now on new Honda vehicles.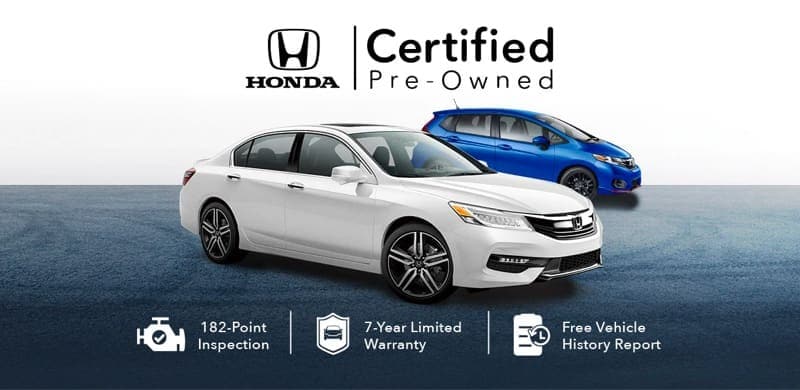 Certified Pre-Owned
Nothing compares to the quality of a Honda. No other program comes close.
Our Reviews
Outstanding service!! Performed to timeframe given and price was reasonable as quoted. Will return for certain
I had a great experience with the Honda service team. They took care of the service needs I had for my Honda Civic and I got my Honda Civic back in good condition.
Worked with Scott Habiger to get my HRV, was a fantastic experience. Scott is great, and I'd definitely recommend him and IGH Honda. Been leasing from them since 2012, and they've never done me wrong.
We witness how you treat customers w/respect to their decision whether to wait or have the recommended work done now or schedule an appt. at their convenience.
Evelyn helped us out a lot, even got us a great rate. All the staff is very friendly and their service station is top tier. 10/10 would recommend!
Evelyn is super friendly and extremely helpful. Helped us with a lease turn in and even got us some money back!
Very helpful. We enjoyed the experience and are very happy with our new car. Thanks!
Ken Wagner sold me a certified pre-owned 2019 Honda Accord yesterday and I couldn't be happier! Ken was very friendly and helpful in assisting me through the process and I highly recommend him!
I have always had prompt and courteous service from everyone I have had contact with when coming in to service my car.
I brought my wife's used (new to us) CRV here twice for service, and the staff members were very professional, communicative, and transparent. Recommend for Honda servicing.
Great experience purchasing a used 2020 Honda Accord Hybrid at Inver Grove Honda! Ken Wagner and Matt Zuzek were both helpful and easy to work with. I will definitely go back again next time I am in the market for a new or used car!
From the moment I stepped into the door, everyone was so outstandingly kind and respectful. My sales representative and the rest of the team were very helpful, knowledgeable about the products they were selling, and flexible with my scheduled appointments due to my busy lifestyle. I would highly recommend this dealership to anyone.
Everyone is friendly and helpful - offering suggestions without pressuring one to make an immediate decision.
Jason 5 star service, we've returned to purchase multiple Hondas. Always great service.
Very knowledgeable and does what they can to reduce the price.
This is the 2nd time I've gone to Inver Grove Honda. The first was in an attempt to buy the vehicle I have now...over 11 years ago. I did not buy from them, instead I got an extremely rude, high pressure salesman who was so over the top arrogant and insulting that I vowed never to go back. 185k miles later after securing my vehicle from another dealer, it needed a number of items checked out...all stuff that was not exactly easy to pinpoint. I honestly expected it would take several days. Problem is, non dealers aren't open very late and very few mechanics, including the Honda dealer that's closest to us, do not have loaner vehicles, and we could not be down a car. Not only did IG get us a 7pm intake appt practically right away, they listened to a laundry list of issues that even the intake rep thought might take significant time, they called at 8am the next morning, quoted me a price to fix everything and got it done for 150 less than quoted by 130 that day. I have a mechanic I trust and have used for years but someone like my mechanic is always backed up, has no loaners and certain things are just beyond his expertise. In short if I'd have had him look at the car it probably would have taken 2 weeks for an appointment, no loaner and he'd have kept it for a week and honestly one of the things I had IG do he had tried to do one unsuccessfully, and it might have been slightly cheaper, but I felt the cost was fair....you get what you pay for. Honestly I think this is where that car is going next time it needs anything major. I just won't buy my next one from them.
Everyone was extremely easy to work with. Work was done in a timely manner. Am very pleased with the service I received.
I love my dealership! They always are friendly, professional, and very helpful. They checked and found a coupon I could use to bring the price of my bill down. There is a clean, comfortable waiting room with water & coffee, free wifi, clean restrooms, and even a play room for the kids. They always throw in a free carwash, too!
Bob H. is our 'go-to-guy' for Honda service. He has taken care of us and our Ridgeline since we purchased it new and he is someone we trust to keep our truck running at all times. For this reason alone, we would keep coming back to Honda for service. Thanks BOB! Wayne and Trish Thompson, Hastings, MN
Excellent customer services, very efficient and reasonable.
Bought a used (2019) Passport yesterday. Buying a car, new or used, can feel tricky and icky but this was a breeze. Angel Espinoza was friendly and relaxed. We came in looking at a Ridgeline, he spent a lot of time with us. We were close to purchasing, put a hold on it, but still wanted to sleep on it. He was totally cool with that. When we realized it wouldn't fit our needs, I called to tell him (on his day off) and he was cool with that too. He didn't push me, didn't try to change our minds. He pretty much said if it wasn't for us he didn't think we should get it. We'd spent the evening researching and decided to look at a Passport. If he'd been super pushy we wouldn't have returned. But, since we liked his approach we continued and bought that through him. Honda gave me the rate I wanted as well, and the trade-in allowance was pretty much what we figured we'd get. I'd buy with these guys, and with Angel, again.
Timely, great service with Aaron.
Angel Alvarado was very helpful and professional. He helped me choose the perfect car for our families needs. He is very honest and trustworthy.
Shopped here recently and we were helped by Casey Weber, he was informative and helpful. He wasn't pushy or aggressive and let us take the time to test drive whichever cars we were interested in so we felt comfortable making a decision. Enjoyed working with the staff here all the way through the process, very professional!

Welcome to Inver Grove Honda
Have you been looking for a dealership in the Twin Cities area where you can have all your automotive needs covered? Then you'll be glad you found Inver Grove Honda. As a leading dealership near Minneapolis and St. Paul, we're also happy to serve the communities of Bloomington, Burnsville, and beyond with an incredible selection of new Honda vehicles, as well as the most extensive selection of certified pre-owned Hondas in the state of Minnesota.
When you want a dealership you can depend on for great deals on quality models, we've got you covered. Our sales professionals have years of experience and up-to-date training to keep them informed when it comes to all the latest technologies and engineering on the newest Honda models. That way, we can provide you with all the information you need and help point you in the direction of the vehicle that best serves your needs and fits your budget. In addition, you can always get a great deal by checking out our rotating list of new and pre-owned vehicle specials.
At Inver Grove Honda, we can also help you maintain your vehicle. Our garage is stocked with the most advanced equipment and genuine Honda OEM parts, all of which is used by our trained and certified technicians. We'll take care of all your vehicle repairs and maintenance as quickly and conveniently as possible, and make sure to provide you with a rental when you need more extensive work done.
By putting the customer first, we've helped build a dealership culture that people throughout Inver Grove, Minneapolis, St. Paul, Bloomington, and Burnsville know they can trust. Make your way to see us today at 4605 South Robert Trail in Inver Grove Heights, MN, or contact us at 651-306-8600 if we can be of assistance to you.
Get Directions To Inver Grove Honda