OAC - Must finance through AHF - In stock units only,. See dealer for complete details. Expires 7/5/22

OAC - Must finance through AHF - In stock units only,. See dealer for complete details. Expires 7/5/22

OAC - Must finance through AHF - In stock units only,. See dealer for complete details. Expires 7/5/22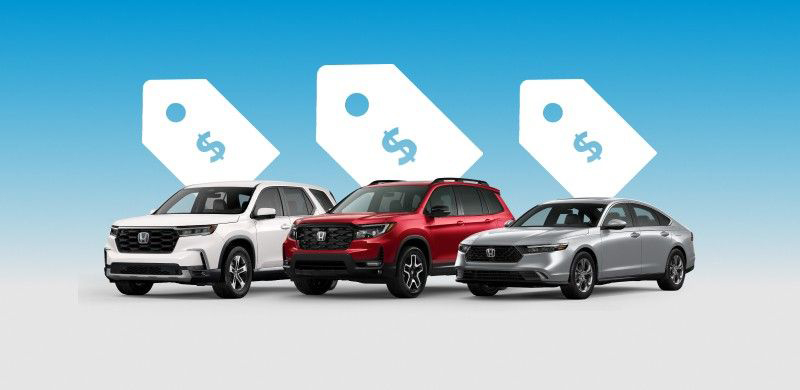 Current Offers
See this month's featured current offers going on now on new Honda vehicles.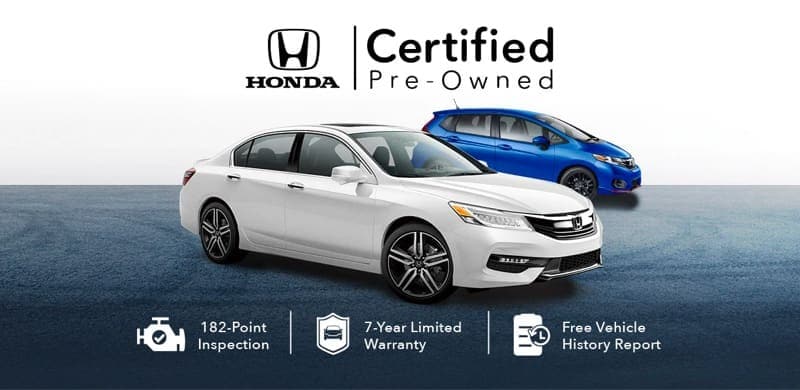 Certified Pre-Owned
Nothing compares to the quality of a Honda. No other program comes close.
Our Reviews
Always great service and great care of us and our vehicles for the past 7 years. Wouldn't go anywhere else.
My 2012 Honda Fit was suddenly undrivable and I had to buy a replacement car ASAP. After a quick search online, I got a phone call from, Nick, one of the salesman who offered to pick me up. The entire process of buying my 'new' used Fit was easy. I felt well-taken care of. I felt the sales people and the finance people were sincere, honest, and genuinely wanted to help me out. I would definitely buy a car at Invergrove Honda again!
Because of our sales person, Nick S., our experience at Inver Grocer Honda was amazing. This is our second vehicle we have bought here and Nick is by far the best sales person we've had. We will definitely be recommending Nick to friends and family.
First time in and bought a car Worked with Evelyn great help! Very helpful staff
Never had a problem when coming here. Always courteous and friendly. Everything went smoothly and in good time.
I am always able to schedule an appointment on line and at a convenient time. The service agents are very respectful and informative.
Best experience I've had purchasing a new vehicle. Excellent, respectful and most important they make the customer feel valued. They set the bar where it should be; customer first.
Always top notch service. The best service team in Minnesota from the management down to the mechanics and techs!
Waited just a few to pull my car in when I arrived at my appointment time. Extremely busy for a Monday! Took longer than expected although was informed midway through that it would be longer. I had a book and no place to be, so it was all fine.
I never write reviews but Tim was amazing. I was a little frustrated when I came in but he deescalated the situation while still making me feel heard and valued. I will be coming back and I hope I get the privilege of working with Tim every time. He turned a tough situation into a loyal customer that will keep coming back. Someone give this man a raise.
Always amazing service. Up front and honest. I wouldn't consider taking my Honda anywhere else.
With Jason and the whole staff always excellent getting the right vehicle what I'm looking for! Always flawless in what they do ! Third vehicle , so I would say they are the place to go !
That TERRY in service is a strong customer's advocate! They needs a raise! I built a mechanical claim for mutual customer with Terry. Again thanks Terry, for being oh so polite and helpful. Our customer left happy with the service provided at Inver Grove Honda. Repairs were preformed quickly by trained professionals giving us both peace of mind peace of mind. Thanks TERRY!
We had a great experience shopping for a HR-V for our Mom. Braden Flanagan provided amazing customer service and made this experience at Inver Grove Honda stress free! He was knowledgeable, attentive, and above all, genuine. We highly recommended Braden and will refer our friends and family to him.
We have been buying and servicing our vehicles here for nearly 20 years. It's always a great experience.
They are amazing! I bought a vehicle from them recently and they were so easy to work with and completely on top of everything. Since then, they have given me 5 free oil changes and tire rotations and each visit has been amazing, quick, and quality service. Definitely recommend!
Sophia was friendly, amazing, and patient while I mulled for over two weeks, waiting for a car I liked. She made sure I was taken care of and that the car and price were the right fit for me. It was my first time buying straight from a dealership, and she made it very easy, researching cars I was interested in, as well as sending me more that she thought I would be interested in when those sold before I could get them. Very knowledgeable about the features of each car that I looked at and the differences between the years/models I was interested in. Ashley in finance was amazing as well, very friendly and helpful in getting my loan approved. A very pleasant experience overall! Definitely will visit for my next Honda.
Evelyn was amazing to work with! She made everything so easy and I was able to purchase my vehicle from the comfort of my home. Evelyn was so sweet and gave us excellent service. Thank you so much again! I will be continuing service with you!
Evelyn has been so amazing and went above and beyond. I can't thank her enough for everything she has done and all of the loopholes she had to go through so that I could have my dream car. She is truly genuine and is great at what she does.
We Purchase 8 vehículos from Evelyn Wood-Trout, she is a great sales person, if you are looking from a great sales experience ask for her! We are now waiting for our #9 Honda Ridgeline 2023!
The service department was incredible...Bob was very attentive, called to keep us posted, and even found a way to give a discount through a coupon! I can't recommend the service department highly enough!
My husband and i purchased a car through this honda dealership. We went through evelyn and Jeremy. Thank you so much for helping my husband and I. You're the best!!!!! We truly appreciate you and Jeremy for taking your time to help us. You guys give us the best service out of all the other dealership that we have been working with. We live near another Honda dealership off from highway 61 and they have never meet my expectations and the worst service ever. Thank you again and I will continue my business with you guys <3 Have a great day!!!! Thank you, GCL & AV
Jason in the Service Department was very attentive and handled our service concern very quickly and professionally. He was very thorough and also very knowledgeable and got the work done faster than expected. We are very happy and will return anytime we need service with our vehicle.
We bring all of our vehicles to Honda in IGH for repair and maintenance. I trust they have our best interest in mind. I even feel comfortable sending my teenagers in with the vehicles for appointments. All the service advisers are great. We have been working with Katie a lot and she has been thorough and understanding.

Welcome to Inver Grove Honda
Have you been looking for a dealership in the Twin Cities area where you can have all your automotive needs covered? Then you'll be glad you found Inver Grove Honda. As a leading dealership near Minneapolis and St. Paul, we're also happy to serve the communities of Bloomington, Burnsville, and beyond with an incredible selection of new Honda vehicles, as well as the most extensive selection of certified pre-owned Hondas in the state of Minnesota.
When you want a dealership you can depend on for great deals on quality models, we've got you covered. Our sales professionals have years of experience and up-to-date training to keep them informed when it comes to all the latest technologies and engineering on the newest Honda models. That way, we can provide you with all the information you need and help point you in the direction of the vehicle that best serves your needs and fits your budget. In addition, you can always get a great deal by checking out our rotating list of new and pre-owned vehicle specials.
At Inver Grove Honda, we can also help you maintain your vehicle. Our garage is stocked with the most advanced equipment and genuine Honda OEM parts, all of which is used by our trained and certified technicians. We'll take care of all your vehicle repairs and maintenance as quickly and conveniently as possible, and make sure to provide you with a rental when you need more extensive work done.
By putting the customer first, we've helped build a dealership culture that people throughout Inver Grove, Minneapolis, St. Paul, Bloomington, and Burnsville know they can trust. Make your way to see us today at 4605 South Robert Trail in Inver Grove Heights, MN, or contact us at 651-306-8600 if we can be of assistance to you.
Get Directions To Inver Grove Honda