OAC - Payment includes first payment, tax, title, license, and dealer fees, for a total out-of-pocket expense of $2500. Must qualify for the Honda $500 loyalty cash down payment assistance. Expires 10/31/2023 While supplies last.

OAC - Payment includes first payment, tax, title, license, and dealer fees, for a total out-of-pocket expense of $2500. Must qualify for the Honda $1000 loyalty cash down payment assistance. Expires 10/31/2023 While supplies last.

OAC - Payment includes first payment, tax, title, license, and dealer fees, for a total out-of-pocket expense of $2500. Must qualify for the Honda $500 loyalty cash down payment assistance. Expires 10/31/2023 While supplies last.

OAC - Payment includes first payment, tax, title, license, and dealer fees, for a total out-of-pocket expense of $2500. Must qualify for the Honda $1500 loyalty or conquest cash down payment assistance. 3 vehicles for this offer. Expires 10/31/2023 While supplies last.

OAC - Payment includes first payment, tax, title, license, and dealer fees, for a total out-of-pocket expense of $2500. Must qualify for the Honda $500 loyalty cash down payment assistance. Expires 10/31/2023 While supplies last.

Available on approved credit through Honda Financial Services, 0.9% APR for up to 36 months on select new and unregistered 2023 Honda Ridgeline models through 10/31/2023, for well-qualified buyers. Not all buyers will qualify. Higher financing rates apply for buyers with lower credit ratings. Actual down payment may vary. Dealer participation may affect actual payment. Dealer sets actual prices. See participating dealers for details.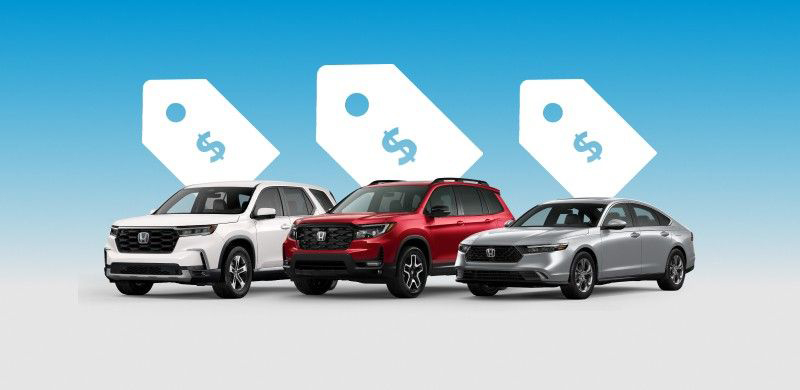 Current Offers
See this month's featured current offers going on now on new Honda vehicles.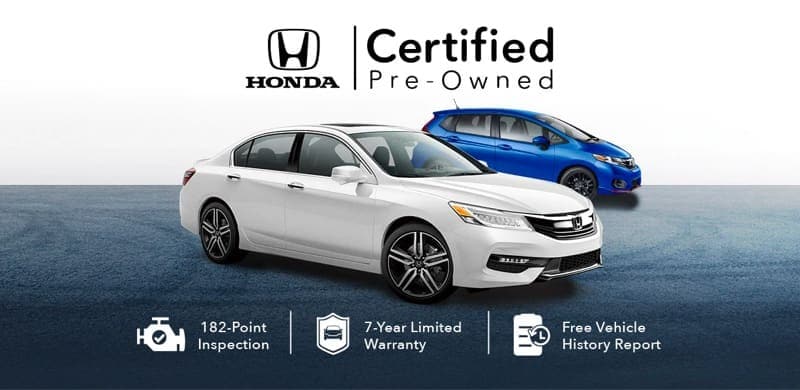 Certified Pre-Owned
Nothing compares to the quality of a Honda. No other program comes close.
Our Reviews
My vehicle that I had for years finally died, and I needed to purchase a new/used vehicle asap. I was a little anxious because I hadn't purchased a vehicle in 14 years and didn't know what to expect. Terry from the service department introduced me to Laura and said she'd be able to help. I explained my situation and Laura asked me some questions to help me find exactly what I was looking for. Laura was able to pull up some great options for me to check out. Thanks to Laura's help, I was able to find something I really liked and was able to walk out that day with a vehicle. Going into it with a little anxiety, Laura was able to make it a really great experience all around. Laura answered all my questions and explained everything in detail. She also made the whole process kind of fun! Even the finance person Ashley was really kind and easy to work with. Thank you to Laura and the whole Inver Grove Honda team I worked with who were all great and kind!
Just had my oil changed at Inver Grove Honda. Turns out I was a walk in without an appointment. Tony was a super rock star. Explained the timing and was very clear setting expectations. Tony was right on with his time estimate. Great customer service. Tony was engaging and personable. Go to Honda. Ask for Tony!!
Great and efficient service appointment!!
Really great working with IGH on our purchase of a new 2023 Pilot. Worked out most of the deal on the phone. Our salesman was out on the day we officially purchased. The other salesman and all the staff were great.
I bought a crv hybrid from Ken Wagner and he was great! So knowledgeable and patient as he taught me about the hybrid vs. gas vehicle. Excellent customer service!
Casey did an EXCELLENT job helping us buying a vehicle. He was attentive to our needs and was no pressure which we liked a lot. Thank you Casey!!
As usual, a thorough job maintaining my vehicle. I always get top notch service there.
Laura Gerken went way out of her way to keep me informed about incoming allocations in regards to a car that is fairly hard to get in this market. I could not have asked for a better salesperson to assist me through the process. She is transparent and upfront and I highly recommend her if your searching for a new or used vehicle.
I bought my 2023 Honda CRV from Inver Grove Heights Honda six months ago. Buying a car had never been as easy as it was with my salesman Andrew Wiest. He as n constant contact with me. He answered every question I had. He showed me every feature on my test drive. When my car came in he even picked me up in a similar CRV since I didn't have a ride. He spent over an hour with me in the car getting the seats adjusted, my phone connected and all the settings catered to me. Everyone from Andrew to the finance person to the service department treated me well. I can't say enough good things about Inver Grove Honda.
Friendly and knowledgeable team members. Prompt and professional.
Their service is outstanding along with their conducive waiting area. I would like to specifically thank 'Tony' for his great service and friendly treatment! I definitely recommend their uniquely fantastic service!
Katie from service exceeded my expectations. It would be nice if Honda hired more people like Katie, who actually make you feel welcome, heard and interested in problems solved!
Great service this morning by IGH and Brady explained the additional services that were due on my vehicle. Great customer service by the entire team!
I brought my Civic Si in for new tires. As with most everyone, I do not have a lot of extra time and I figured to avoid extra trips I should have them go through everything while I was there. I worked with Kris in the service department and he was patient, thorough, and did not try to upsell me. I anticipated a laundry list of items that would need service as I typically drive the car like I stole it. They completed all of the diagnostics I requested and to my surprise, all I needed was new tires. I was very pleased with the service and am also pleased with how well the car is holding up at 70K. Now if they could just find me a Type R in Honda red...
The service team member Bob, that assisted me was truly a professional and made sure the safety of this repair was completely restored prior to allowing us to take it. Prompt communication throughout and also reviewed additional preventative maintenance that was past due. Greatly appreciative for his help.
Katie was very professional and awesome customer service.
This place is so wonderful! Every time I bring my car they go above and beyond. When I've needed service that takes more than a few hours, they gave me a nice loaner free and handle every thing. Prices are so fair and reasonable. Plus you get a flower when you leave. I highly recommend them.
I've been coming to Inver Grove Honda for over 10 years. The staffs are friendly, they don't try to oversell unnecessary services - Tony helped us on our recent visit and he accepted a Honda Coupon from another dealer, we saved 15% off our services and the repair was timely. Car is running smooth again and that is why i love and will always bring my vehicle to Inver Grove Honda.
I love this location. The staff are always very helpful, friendly, and professional. The waiting area is clean, comfortable, and stocked with snacks.
Last week, I drove my 2009 Honda Civic to the Inver Grove Honda dealership to inquire about replacing a faulty turn signal bulb. However, when I went back to leave in my car, the engine wouldn't start. I informed my service advisor, Bob Helgeson, and he immediately came out to see what he could do. It appeared to be a defective engine starter and as luck would have it, Bob found a replacement starter in stock. I told Bob that my family was planning on going on a vacation in a couple days, but I didn't have an appointment for the service. However, Bob was able to schedule my car right in and the job was completed in about an hour. Bob was very helpful during my ordeal and even when I forgot to have the faulty turn signal bulb replaced (my original issue), when I came back the next day, he again got me scheduled right in. Again, done in an hour. What's the odds of having your Civic's engine "die" in the front of the Honda dealership/repair and finding such a resourceful service person to immediately identify and solve your problem? Thanks, Bob. You have a very grateful customer. Al Anderson 9/10/2023
Ken W was an amazing sales person to work with. He gave us all the time in the world to decide between 2 suvs. He even washed both of them. He was not pushing at all. He explained very thoroughly of what everything was. You can't find a better sales person to work with. I strongly suggest working with him. He even got us a deal on our dream suv! The only downfall and disappointment we had was the detailing part, but that was not the sales person fault. Detailing was not a good job they miss some pretty obvious spots. Yes even though it was used by a couple of years detailing is still needing to be done.
The service here is always top notch. Bob is very friendly and personable, knowledgeable and gives excellent customer service from start to finish. When I bring my car here, I know what to expect and how long it will take. Bob, and Inver Grove Honda in general, is above and beyond in every way.
Like always I like the service I get for my car at Honda Inver Grove I will always recommend it
Inver Grove Honda service center is outstanding. My service advisor Bob Helgeson is a real pro. He was on top of things from customer service to being very knowledgeable. They do not try to oversell you on anything. The wait in their lobby is comfortable. Great experience!

Welcome to Inver Grove Honda
Have you been looking for a dealership in the Twin Cities area where you can have all your automotive needs covered? Then you'll be glad you found Inver Grove Honda. As a leading dealership near Minneapolis and St. Paul, we're also happy to serve the communities of Bloomington, Burnsville, and beyond with an incredible selection of new Honda vehicles, as well as the most extensive selection of certified pre-owned Hondas in the state of Minnesota.
When you want a dealership you can depend on for great deals on quality models, we've got you covered. Our sales professionals have years of experience and up-to-date training to keep them informed when it comes to all the latest technologies and engineering on the newest Honda models. That way, we can provide you with all the information you need and help point you in the direction of the vehicle that best serves your needs and fits your budget. In addition, you can always get a great deal by checking out our rotating list of new and pre-owned vehicle specials.
At Inver Grove Honda, we can also help you maintain your vehicle. Our garage is stocked with the most advanced equipment and genuine Honda OEM parts, all of which is used by our trained and certified technicians. We'll take care of all your vehicle repairs and maintenance as quickly and conveniently as possible, and make sure to provide you with a rental when you need more extensive work done.
By putting the customer first, we've helped build a dealership culture that people throughout Inver Grove, Minneapolis, St. Paul, Bloomington, and Burnsville know they can trust. Make your way to see us today at 4605 South Robert Trail in Inver Grove Heights, MN, or contact us at 651-306-8600 if we can be of assistance to you.
Get Directions To Inver Grove Honda