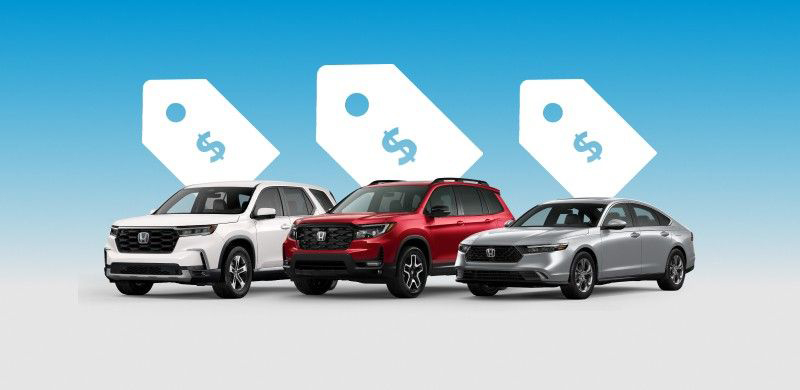 Current Offers
See this month's featured current offers going on now on new Honda vehicles.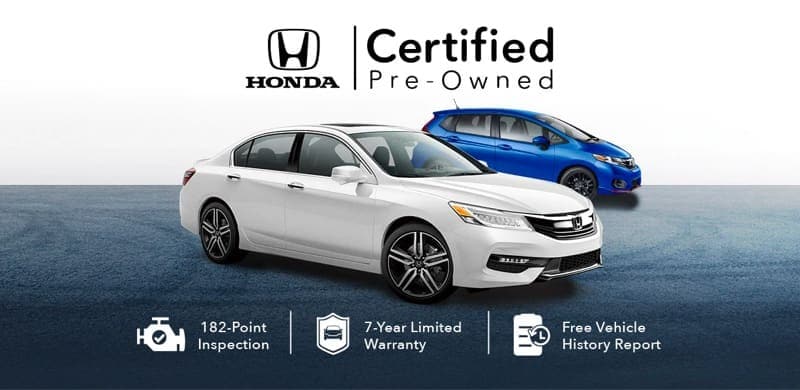 Certified Pre-Owned
Nothing compares to the quality of a Honda. No other program comes close.
Our Reviews
I had a good experience with Inver Grove Honda and highly recommend working with Scott Habiger. I placed an order back in 2022 for the 2023 Honda CRV and Scott was wonderful with communicating with us about the status of the order, when it was going to be delivered and making sure we have a great experience. Scott effectively texted, called and emailed me all sorts of information to make sure I was informed and greatly appreciated his transparency in the process. When the car finally came, he made himself available to meet our timing. We spent about 2.5 hours in total time from when we got there to look at the car to when we were finally done with all the paperwork. We added some additional accessories on and had some issues with getting accessories put on in the time that was promised. This had nothing to do with Scott, and more about Joeth (accessories coordinator) who was overpromising to get the sale. Due to "Supply Chain Issues" she was telling us we had to wait longer, which was not satisfactory, but I was able to work with the General Manager, Bryan, and get our deal back on track. I found Bryan able to help find a solution to the issues that mutually works for all v. calling me saying there is a problem. Overall, I found working with Scott and the GM, Bryan, to be highly satisfactory and would highly recommend but would definitely reconsider accessories in the future without asking further questions about their stock and pricing. I find it unacceptable for a dealer to not have basic accessories like wheel locks not in stock. The pricing of these accessories is very expensive, so would expect better service on that front. Once again, I want to say, we had a good experience with Inver Grove and look forward to continuing to develop our relationship with this dealer.
As usual the team was courteous and got my servicing done promptly.
I went to Honda to purchase and install a car battery. Tony helped me - he was so nice and informative. The ladies at the front desk were so kinds and helpful as well.
Wow. This dealership far exceeded my expectations. Compared to some other dealers I was visiting, the customer service, the kindness, the prices, and the honesty were top notch. Andy Young, my salesperson, was super helpful, kind, and accommodating throughout the entire process. He even drove my new car home for me off the lot! Ashley Toms, the financial point of contact, was such a delight and so helpful. They both really came through for me. The journey of finding a quality vehicle that I wanted for the right price came to a delightful end at this dealership. I really recommend them for anyone who wants to be treated well and find the Honda of your dreams! And I love my new car so much. Such a wonderful experience!
Always a great experience at Inver Grove Honda service ! Aaron and the rest of the service advisors rock! The techs always do a great job servicing my Ridgeline and pilot !
We wanted to let you know how pleased we were with our overall experience with Inver Grove Honda. Much of our satisfaction came from dealing with our Sales Rep, ANDY YOUNG. He is very friendly, knowledgeable about the products and services, and was completely dependable about returning our calls and keeping us informed on the progress of our purchase. We are also very happy with our new 2023 Honda CRV EX L.
We wanted to let you know how pleased we were with our overall experience with Inver Grove Honda. Much of our satisfaction came from dealing with our Sales Rep, ANDY YOUNG. He is very friendly, knowledgeable about the products and services, and was completely dependable about returning our calls and keeping us informed on the progress of our purchase. We are also very happy with our new 2023 Honda CRV EX L.
This week we worked with Cory Gold at Inver Grove Honda. This is the second time working with him and he was just as exceptional as he was the first time in 2020 when we bought another SUV from him. Cory is the real deal - honest, knowledgeable, experienced and will point you in the right direction when looking for a vehicle. He worked hard to keep us within our budget. We strongly recommend Cory Gold and the Inver Grove Honda Team.
We have worked with Inver Grove Honda a handful of times and it is always a phenomenal experience. Excellent customer service, pricing, and support for their customers. Highly recommend!!!
I was greeted and taken care of by Bob, he made sure all my questions were answered and ensured I got the best price for the services needed. If you find yourself needing to head into Inver Grove Honda Service, do yourself a favor and request Bob, he will take care of you.
Matt Zuzek was AMAZING. Super welcoming, upfront, and helpful in finding the perfect car for me.
This dealership always makes me feel welcome and that they will do the best for me while I am there. Definitely recommend!
Ken W is a very knowledgeable and will work with you to find the best vehicle that meets all your needs and wants!
Friendly, prompt and efficient
I had my first free oil change and tire rotation last week. I was very pleased with my service. Derrin was friendly, patient and kind and respectfully answered my questions. That seemed to also be true for the other service advisors as I noticed that they treated their cumstomers in the same way. I have not felt like such a valued customer anywhere else. Thank you, Inver Grove Honda!!
TRAYANNO is the man! Came in after getting into a bad situation and he saved the day!
I bought my first brand new car from Inver Grove Honda and had such an amazing experience so when it was time to trade it in, I knew exactly where I was going to do it! Everyone is so friendly and excited to help their customers every step of the way.
My experience here was amazing. Gardner Hatch was excellent to work with. He was able to answer all of my questions and helped me with what I needed. If you are looking for the best person to help you buy a car in this type of market, I highly recommend Gardner.
I am very happy with service which I received on my visit last Thursday. Everything was so great. I would like to thank you a lot.
I've had two separate leases through this dealership and have had a great experience through both. I wanted to give a big shoutout to Tim Larsen. He is usually the person to help me when I bring my car in to be serviced and he always goes above and beyond. My family also brings their vehicles here for service and they too mention how helpful and knowledgeable Tim is.
One of the better experiences I've had with a dealership. I got a vehicle that runs great. Brought it to the service center to get a tire patched, it was determined that tire needed to be replaced and it was at no cost. I dealt with Tim in the service as well as the G.M. Bryan. Both fair and friendly. There was no arguing or bickering, just great customer service. Inver Grove Honda will be first place I go for a new vehicle in the future
Paul was absolutely great! Guided me to my dream car and was very professional and understanding when it came to questions/concerns. This location has given me great service for years now and I highly recommend the Inver Grove Honda team to anyone needing help with their auto needs!

Welcome to Inver Grove Honda
Have you been looking for a dealership in the Twin Cities area where you can have all your automotive needs covered? Then you'll be glad you found Inver Grove Honda. As a leading dealership near Minneapolis and St. Paul, we're also happy to serve the communities of Bloomington, Burnsville, and beyond with an incredible selection of new Honda vehicles, as well as the most extensive selection of certified pre-owned Hondas in the state of Minnesota.
When you want a dealership you can depend on for great deals on quality models, we've got you covered. Our sales professionals have years of experience and up-to-date training to keep them informed when it comes to all the latest technologies and engineering on the newest Honda models. That way, we can provide you with all the information you need and help point you in the direction of the vehicle that best serves your needs and fits your budget. In addition, you can always get a great deal by checking out our rotating list of new and pre-owned vehicle specials.
At Inver Grove Honda, we can also help you maintain your vehicle. Our garage is stocked with the most advanced equipment and genuine Honda OEM parts, all of which is used by our trained and certified technicians. We'll take care of all your vehicle repairs and maintenance as quickly and conveniently as possible, and make sure to provide you with a rental when you need more extensive work done.
By putting the customer first, we've helped build a dealership culture that people throughout Inver Grove, Minneapolis, St. Paul, Bloomington, and Burnsville know they can trust. Make your way to see us today at 4605 South Robert Trail in Inver Grove Heights, MN, or contact us at 651-306-8600 if we can be of assistance to you.
Get Directions To Inver Grove Honda