Your Trusted Honda Service Center in Inver Grove Heights.
If you need to schedule an appt for any RECALL, please call us and talk to a service representative prior to scheduling. This will ensure that we are able to serve you in the most timely fashion and have parts available.
Our factory-trained mechanics are the premier Honda service experts in Minnesota; whether you need a oil change, brake services, tires or preventative maintenance.
Visit us during our extended service hours at our state-of-the-art facility. You can also set up an appointment in minutes using our service appointment form.
Oil Change (Lube, Oil & Filter Change)
Brake Service (Replace & Adjust Brakes)
Preventative Maintenance
Scheduled Maintenance
Automatic Transmission Service
Air Conditioning
New Tires & Tire Rotation
Front End Alignment
Service Package
Muffler & Exhaust Repair
Coolant Service
Vehicle Checkup & Inspection
Tire Balance & Replacement
Maintenance (Wipers, Headlights, Etc)
Service: 651-306-8605
Parts: 651-306-8605
Mon - Thu     7:00 AM - 9:00 PM
Friday            7:00 AM - 6:00 PM
Saturday        8:00 AM - 4:00 PM
Sunday          Closed


Now included with every qualified vehicle lease or purchase. Engine Oil & Filter Changes *2 year 25,000 mile (whichever comes first). Excludes European Vehicles, Diesels, Heavy Duty Trucks, and Customers residing outside of the dealerships primary market area. Excludes pre-owned vehicles with a retail price of $5,000 or below.
**Tire rotation coupons may only be redeemed at Inver Grove Honda.
***Fluids checked/replenished : Washer Fluid, Coolant, Power Steering, Brake Master Cylinder, and Clutch Master Cylinder.
****Emergency Gas Delivery Includes complimentary fuel up to 3 gallons and may be redeemed once per 30 days.
Take advantage of these great service offers while they last.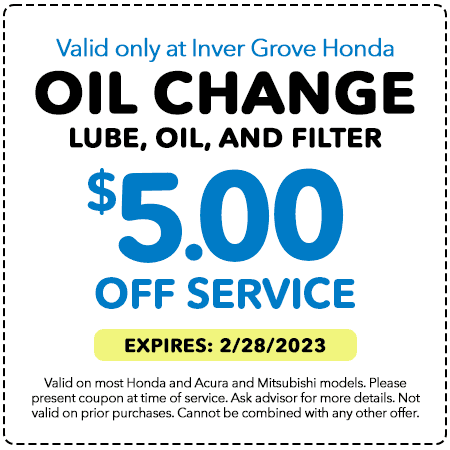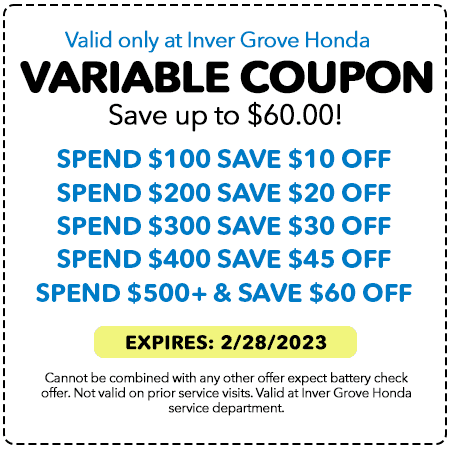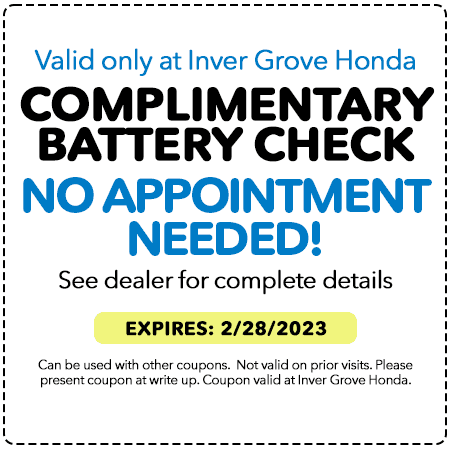 "Inver Grove Honda completed the 15,000 maintenance minder service on my 2017 Black Edition Ridgeline efficiently and effectively. Got me a discount on service and even a wash!! Thank you and see you again soon."